17 mars 2009
I've been wanting to optimise my soup-making with a kniffty mixer type thing and I found it this evening at the supermarket: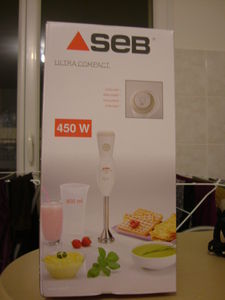 This should make next weeks' cooking alot faster and make alot less dishes to wash. I'm all for limiting dish washing since I do it by hand.
And while I'm at it, this is the square... a few people have been wondering how the stripeing will continue, so here it is!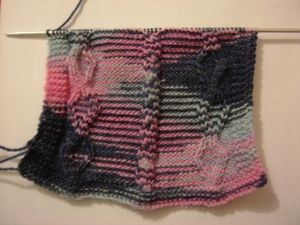 It's about 2/3 now at 14cm.
I emailed a bunch of women at work about the Knit-a-Square project and 6 of them answered enthusiastically and would love to knit squares with me!!! Yay for modern means of communication.
16 mars 2009
I came across a Ravelry group the other day. It's called Knit-a-Square.
The people behind the organisation are asking for volontiers to knit 20*20 cm squares in any pattern to send to Africa to be sewn into blankets for children.
One of the requests is that the squares be in anything but acrylic as this fibre melts and really burns the skin if subjected to fire. These kids apparently use an open fire, so not a good idea.
I sorted through my left-over yarns and I came up with the sock yarns which are 100% wool (does not burn, singes with contact to flame but as soon as you take away the flame the burning stops).
I thought this would be a great idea to help the children out, use up the left-over sock yarns which I keep because I'm a keeper but not because I have any specific project in mind, and gives me the opportunity to practice some cables/stitch patterns I've never done before.
This is the start of the first square, started last Sunday: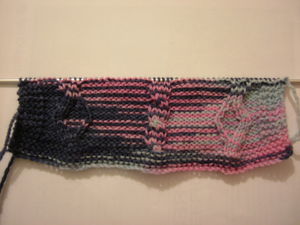 15 mars 2009
OK, so the silence has been because of my untidyness or rather my striving to reach tidyness.
I couldn't find my camera cable the other day. So there was not much point in blogging without photos, right?
Well, today I finished something and I baked something. And these things, I wanted to show you.
So I looked high and low (litterally) for this cable, in bags, in my suitcase, under the sofa cushions, under the sofa ... nope.
So, I finally look in the cable box... yes, I do have one for the phone connection type cables etc... and there it was hiding with its' friend the similar cable I try not to put it near. It would seem, I tidied and put the cable in the cable box... pfff this will teach me!
This will probably be a photo heavy post, here goes.
------------------------------------------------------------------------------
I went to Barcelona on the last weekend of February. If you've never been to Barcelona I recommend it, it has beautiful buildings thanks to Gaudi. Here are some examples: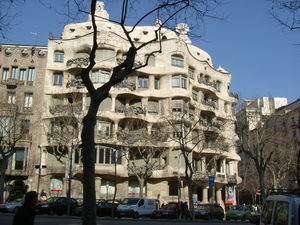 Yes, I took the pink sock to see the Sagrada Familia... we had fun looking at this complexe unsymetrical cathedral by Gaudi... of course, they now work based on the sketches and mathematical structural instructions left by Gaudi.
I also went to the sea front: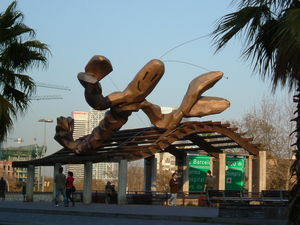 There wa a thermometre just near the lobster that said 19°C... that was on the 26th Feb in the evening. I had a great time visiting the city without my coat all afternoon.
I got to the cuff on the sock in Spain but then couldn't face the braiding and the special ribbing on the plane/bus/ and in the car.
I finished sock 1 at home on my sofa: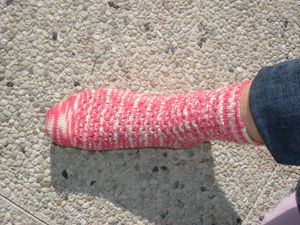 So, a couple of busy weeks passed and I finished the second sock alot faster (no fear of the cuff!!!). The pair on my feet:
Just one thing, the second skein of yarn is thicker than the first. So, the second sock is bigger!!! by one cm on the foot and the legs are about the same length because I finally realised the difference in the yarns and fudged a few rows on the cuff.
They do look different though...
This was a successful knit because I have finished it before the next installment of the sock club arrives!!! Yay!!! This is my goal for the sock club; to not fall behind. This also means I should finish more than 6 pairs of socks in 2009.
And today because I keep a dry house in terms of sweet cakey type things, I made some carrot cake:
It's my Granny's recipe from way back, I found it while I was looking for something else and kept a couple of carrots from cooking veggies. As you can see, I didn't wait for it to be cool before attacking it with a knife. It's delicious and crumbly but that's because it's still warm!!!!
That's all for the time, I now have to screw up the courage to continue on the Cable Raglan sweater.
25 février 2009
The sun is out and that gave me the courage to block the scarf: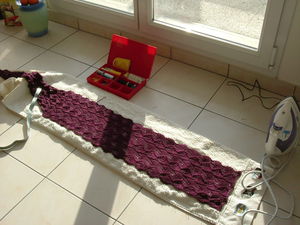 So that's what the set-up looks like... not spectacular but very functionnal.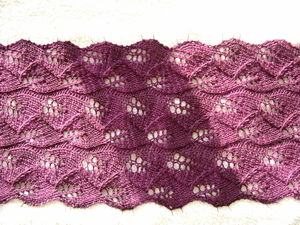 And that's the magic of lace: it reveals itself during the blocking.
And the sweater is also coming along nicely: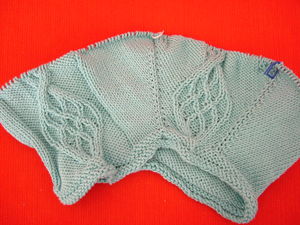 Doesn't look alot different but that's alot of stitches per round/row now. Last count was over 228 !
And a close-up of the pretty pretty cables:
They will be more even after blocking as usual.
24 février 2009
Finishing the boyfriend hat gave me the opportunity to get going on the leaf scarf again. I had put everything down to concentrate on getting boyfriend's head warmer.
So after a couple of evening curled up on my sofa, here's what happened:
That's right, the leaf scarf is finished ! This was a great knit, there's something hypnotic about the pattern. I never got bored and I couldn't put it down.
2 skeins of ShibuiKnits Sock yarn in purple (the colour is actually a number I can't remember)
4 mm needles
Cast on : Jan 10
cast off : Feb 21
For the pattern, contact Nerdcoop on Ravelry.

This still has to be blocked... and I still don't have a blocking set-up. I tried looking for some kiddy mats that assemble like a jigsaw puzzle but they only had fancy ones I couldn't write on (I want to add cm and inches so I can spread things out acurately).
Maybe I'll order some on the net !!! That could be fun.
So obviously one project coming off the needles meant I wanted to cast a new something on the needles.
I hesitated between the swallowtail shawl and the cable down raglan sweater. The catch is that they both need the 4mm circular needle !!!
The shawl is for later on in the year so I thought a cotton sweater would be more time-appropriate.
I'm getting a head start on Spring (yes I believe it will come!) with a light blue-turquoise cotton sweater with cables on it. This will be my first top-down sweater knitting.
Here's the start of it :
I'm using Brown Sheep Cotton Fleece in the Robin's Egg colourway.
It's 80% cotton and 20% Merino wool.
And for the curious, here is what it's supposed to look like when I'm done with it: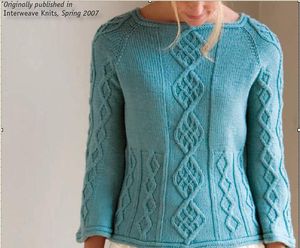 15 février 2009
So, the ranger hat is done !
This one was a battle of its' own... the stripeing, the travelling stitches, the decreases at the top because I didn't have a compatible amount of stitches at the top... anyway, it's done and it's pretty but manly and it's warm for boyfriends' ears.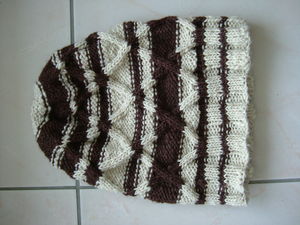 Very happy with this.
10 février 2009
We just found out at work that the following weeks, the place will be closed due to financial difficulties : 9, 13, 17, 21 & 25...
Wow, that's alot of knitting time! with no consequences on my pay ... on the plus side.
On the minus side, how am I going to get all my work done ?! I am one of the lucky ones, I still have a full plate of work.
I also have to take 12 days of holidays + 1 day a month of compensation... I'll be at home more than at work. It'll cost me in heating (I have a timer which cuts the heating just before I leave in the morning and starts up again an hour before I get home.
At least the yarn won't cost me immediately, my stash is big enough to cover these 5 weeks generously.
Maybe I'll spend some time looking for another job... :-)
08 février 2009
So finally there was a bit of sun and I took a photo of boyfriend's hat.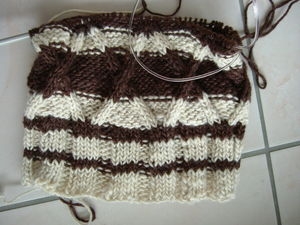 I'm having a tough time deciding when to change colours so it looks random but harmonious.

Needles: 5mm circular
Yarn: Noro Cash Iroha colours 108 and 1
Pattern: Ranger Hat by Anni Laine (free Ravelry download)
On Saturday evening I went to see an ice hockey match. I actually also went to one 2 Saturdays ago but forgot the camera.
My town's team lost by 4 points!!! but still I like the game and the others did play better.
Happy Sunday!
05 février 2009
On the 11th Jan, I promised you an FO picture. I forgot all about that promise until I realized I hadn't shown you!!!
One Jesse hat:
Quick knit: only 2 days !
Needles: 5 mm circs
Yarn: Dream in Colour Classy
Cast on: 10th Jan
Cast off: 11th Jan
No modifications. Toasty ears !
04 février 2009
So today I have an FO... a long time in the making but anyway...
Lizzy socks are a now a pair of finished socks. And I even got a sunny picture !!!: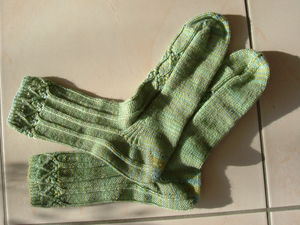 Details
Needles : Addi turbo 2,5mm circs
Yarn : Easyknits bamboo mix
Pattern : Lizzy socks (free Ravelry download)
Cast on : 6th Dec
Cast off : 26th Jan
No modifications, just made the leg a little longer than intended in the pattern.
The lacey scarf hasn't been touched since the last post. I have been trying to make the promised hat for boyfriend and have finally figured out the pattern which was a chart with no explanations of the key for the symboles. I finally remembered I am part of this great community which helps fellow Knitters: Ravelry, and that I should just do a search. Sure enough 3 seconds later I had my answer and could start the patterned part of the hat that comes after the ribbing.
No photos right now because that was last night and I didn't have my camera close enough that I would want to grab it and shoot the hat.
And I have received my first sock club installment. The package was beautiful. It contained (I'm telling now because everyone has got their package by now) soap, butter and a salt soak for feet. All hand-made products and a very nice smell to them. My feet are actually dry at the moment so I have to find 30 minutes to sit down without moving and treat them to that foot bath... ummm sounds dreamy!
The yarn is lovely, pink and soft. It's thicker than I usually have for socks but it knits up quickly and will be great for around the house socks. I have a tiled floor so foot heat is an issue.
I'm past the heel now and figuring out the transition of the pattern to the leg. The stitches shift around a bit so it's not straight forward but also not impossible!
I'm trying to concentrate on boyfriend's hat so I don't give it to him when it's Spring !!!