I had a lovely weekend ! isn't that nice ?!!
I managed to finish sleeve number 2 and here is a picture of my progress of the whole pullover: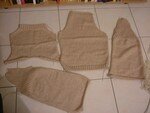 All there is to do are the finishing strips of 2x2 rib for the bottom of the front and the top ribbing that covers the top of the sleeves and makes a link to the top front ribbing.
Of course this ribbing means that I'll have something like 200 stitches on the needles at once which also means (I have experience) about 15 mins per row!!!
So I chickened out and made my sample for first pair of socks:
That's the whole pattern in the yarn from what I can see and it's not that long so it shouldn't be to hard to get the socks identical or almost.
I cast on the sock on dpn's (double pointed needles for the non knitters) and have done 2 rows. I shall be taking this on this weeks business trip because it's not so cumbersome and being a round knit I can leave it whenever (like in a hurry 'cos collegues are knocking on the door wanting to go for dinner).
Oh, I probably didn't mention: the really cool job requires speaking fluent German. I got a call late Friday saying tomorrows' interveiw is cancelled and will be on Wednesday 24th. The good thing is that in the hotel I'm staying at this coming week, they've got all the best German TV channels!!! Am I lucky ?! So I can catch up on my German comprehension skills... should I try to talk back to the TV ?!
I hope to be back at the end of the week with a finished sock photo to show you... (What ?! I'm an optimistic...)