Here I am going to update you on my sock-making:
After the non-knitting episode during business trip, I got home on Friday and as always after a week away, I vegged out on my sofa (yeah, I'm so tired but I want quality time on my sofa anyway!!) until far too late.
On Saturday morning, I was expecting a new washing machine (the 3 year old, yes three, one was broken and as always more expensive to fix than to replace) anytime between 8 and 13 !!!! So, at 8:10, they phoned and said it would be between 11 and 13... and they came at 12:30. I set about making it work hard from the beginning and loaded a machine... in the meantime, I looked at the beginning of my sock: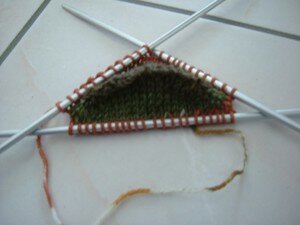 That's when I noticed that it wasn't quite right, and I realised I could do it better... a little interior fight took place in my head and I opted (this is rare for me) to admit it wasn't ok and I frogged it.
So I cast on again and made the same mistake and frogged again (getting good at frogging!).
I cast on again and messed it up and cast on one last time and got it right whoopie!
These are toe-ups and they have lovely smooth tips now, the first sock anyway.
I got this far: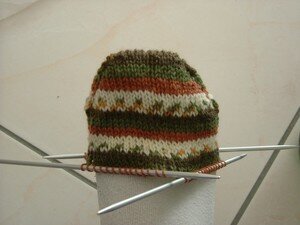 And doing a fitting session I noticed it was too wide for my foot, so I decided AGAIN to admit it and frogged back to the first white stripe to take 8 stitches out.
Then came the heel !!!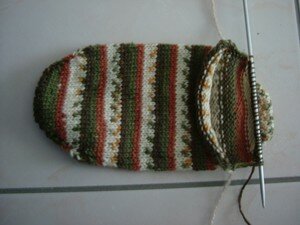 A bit of a mind boggler but generally ok
And this is what it looks like now: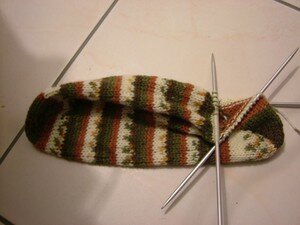 I say, looking good for a second sock experience and first time with this pattern and first time for a toe-up.