So, today is my Sunday and as it's raining, that gives me the perfect excuse to put food shopping off still tomorrow evening and swimming to tomorrow morning before work... I'm free to think and breath knitting
First, sock progress: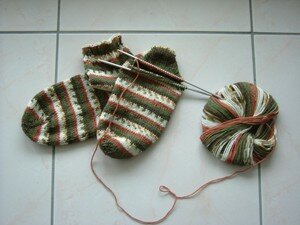 I put the twin in the photo so no cheating!!!! I've just turned the heel and am about to start circular again.
Now, I will show you UFOs or WIPs, whatever you like to call them (UnFinished Objects or Works In Progress).
A recipient for bathroom stuff that gets in a bit of a mess (by mess I mean that they won't stay in the correct place and need a safe dumping ground). This is finished and just needs sewing... I had lost my needle for sewing knitting (quite a convenient misplacing!) and found it for doing the socks just on Saturday, so I should be sewing this up very soon.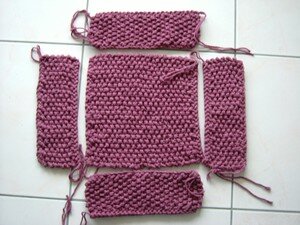 Then, we have a French Market Bag, I tried for a KAL (KnitALong) in January and did ok until I frustratingly ran out of yarn (expensive Mango Moon yarn) just a few metres away from the end. You can see the half strap on the bottom left is not quite finished... My dilema is that I don't want to order more yarn because it's expensive and I would only use a little of it and I don't know if I should try a different yarn because it won't have the same felting properties. I'm forever looking for pure wool in that type of pink but so far no luck at all.... if anyone has any miraculous ideas I'd take them happily.
And to finish with today's gush of honesty (I do have loads of real UFOs with no hope of loosing the "U"), this is a scarf which is 2/3 finished or 1/3 unfinished! It's a boring knit but I suppose after the socks in 3,5mm, the 5mm will seem to knit up fast... I hope. This could end up as a gift, I was thinking of trying to sell it on ebay but I don't know if people buy scarves on there. I'm not crazy about it colourwise, so if someone wants it for a very good price, just write an email or a comment to me !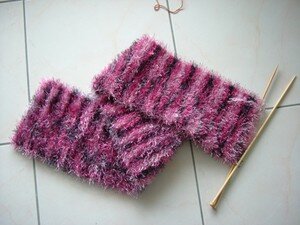 And, I cannot resist to tell you about some of the ideas I've got for the next NEW project: click here for the picture and I would like to knit it in the thick sock yarn I got last month.
That's the sample on 6mm needles... I think it could look really nice. I could cast on this this week if I can just get stuck into sewing for an hour and knit the scarf to its end in front of a film... now what will reality give me ?!!!