I just changed the page on my calendar to November... only one page left on it! Have to get me a new one... but I don't know what type I want this year: kittens and puppies, a town (had Ipswich this year) , flowers, a funny one...
I just got back from a lovely 2 days with a couple of Friends, the high points were going to the circus (thank god for Ventoline!), going for a 30km bike ride, mostly flat but still a good distance for someone who hasn't been near a bike in I think 5 years and going shopping for shoes and new outfits for the new job, that was an expensive outing but since in my town the shops do not propose such a choice and style, I have to shop somewhere and also for shoes, I needed my friends' advice because I'm terrible for buying shoes and she has all the right instincts.
Knitting-wise, I had left a sock just after turning the heel and it is now finished. I even added a little fantasy in the way of a neat (first) cable on one side from ankle up (not exactly visible in the photo but I couldn't get a non-blurry one, sorry). Have a look: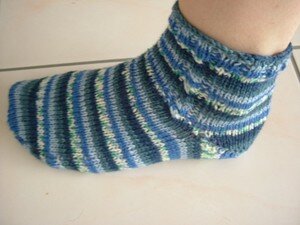 So, now I'm going to attack the unfinished scarf and I hope to be rid of it by the end of this evening... we'll see!