Hey! This is the second time I'm writing this... I wrote a nice post yesterday but somehow it disappeared when I saved it. So I had the photo but was angry at the technology !!!
So, the boring scarf is finished, I am so relieved ! Actually I cheated in a good way on Thursday: I came home for lunch (because my office was freezing 18°C all morning is hard to get warm from, stupid air conditionning/heating system) and put in a good 40 minutes of speed knitting on the scarf. So it was really finished when I said it would be ! I was happy about that. So, +1 FO and -1 UFO yeh !
Here's a photo: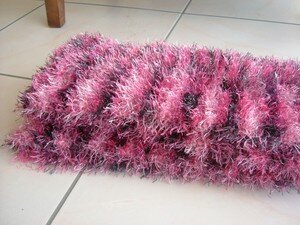 Sock progress : As of putting needles down yesterday evening I am half way through turning the heel and it's looking good.
After this sock, which is for me, I'm thinking of starting knitting socks for my Granny, my Mum, my half sister and maybe my Grandpa (he would prefer me to do 2 pairs for my Granny!) but this also means I'll have to get some new sock yarn and I'm trying to limit my budget at the moment... I suppose it should really go on December's tab because they're for Xmas. I think I'll get some Regia 6 ply to start with and maybe next year so some serious planning so I can get them handpainted yarn for their socks... we'll see.
So, back to knitting: finish the second sock and start one for Granny (she's got really small feet should be a quicker knit!!!).