That's right I am at HOME !!!
This week has been crazy : meeting people I didn't expect to meet, sleeping in places I hadn't planned to, doing things I didn't even think I would do...
First of all, I took the plane to Kosice on Monday, pretty straightforward in theory! It went fine, have to transfer in Prague, so I used the time to put music into my phone/MP3 which was a success. When I got on the bus that takes us out to the plane (a really small one with propellors!!!), I met 2 people who work for the company I was visiting. Strange! Anyway, they asked me where I was staying cos they had plenty of room in their "house" and would be happy to let me stay in one of the suites. I hesitated but I had had to book a really expensive room cos it was all last minute... so I slept the first night at the hotel and then the rest at the house (amazing house, luxurious and sorry I forgot to take photos! maybe next time...).
In this company they have just changed the 2 top people of the plant and now these guys are single and in Slovakia so you can imagine how they occupy their evenings ! So on the last evening I was there they insisted on taking me out to a bar/disco and I met a girl I knew !!!! How does that happen ? So, we spent the evening together and it was really fun... less fun that I slept only 1 hour before getting a ridiculously early plane back home.... but I've recuperated since.
Last night, I went with a new friend to a baroc music + theatric "show" and it was really good. Last minute again and she is studying music so I trusted her and it was refreshingly different from what I usually do.
Today I have to pack for Tunisia, so I'm not going to be able to write again this week. I'm sorry it's not often that I write anymore, I do as soon as I can, promise....
In the knitting department, I have a new work in progress and I've also had to ban my Mum from reading the blog until Xmas!! Poor Mum!
So, here is a photo of November Mystery Socks by Mona Schmidt (pattern is a knitalong in Ravelry) :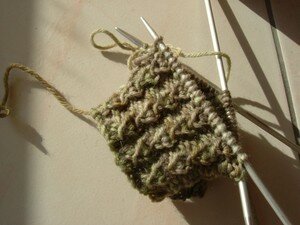 I've only just started using the Fyberspates sock yarn in moss colourway. They're going to be for my Mum's Xmas if they work out the right size.
Don't you find it's tricky knitting for a foot not available for tryouts ?
OK, I've got some serious knitting to do...
Next time hopefully, I'll have a great package to photograph! but more about that soon ....