As you know I went to Tunisia this week with work... The place I go to is a town called Hammamet which is really well known as a holiday place and obviously there aren't any "simple" hotels so we have to stay in a holiday "ressort" type hotel which looks like this from my window :
... and a sock photo (inspired by the Yarn Harlot!)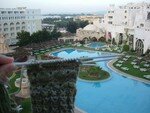 The inside is amazing also in a Disney-way, I love it but my photos didn't work out... maybe next time.
Also, work related, I signed the new job's contract so it's official, I have got a new job *smiles* !!!
So, back to yarn : I got my Xmas/Brithday present from Decor Accents, my sock loom and its tools (the yarn you have seen already) I litterally tore it out of its box and cast on immediately with the first yarn I got my hands on !!! how wild is that ??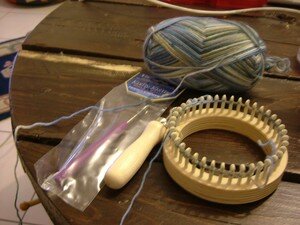 I think you know what I'll be doing this evening !!! This is exciting.
I also ordered goodies from Jon and he said today was the day he posts my lovely collection of sock yarn to me... I'm hoping this will be the first of many orders.
The mystery november sock by Mona Schmidt is coming along nicely, I had trouble figuring out the 2nd clue of the pattern but I worked it through and I love it !
I should be ready for step 3 in another pattern repeat... so you'll maybe get a photo of the heel flap in the next post!
I'm also looking into adopting a furry feline pet in grey... the business trips are a problem, so I have to find somewhere to put her when I'm away... a wip
I think that's enough for today (hey, you got alot of eye candy !)