OK, one photo session took place at lunch... I came straight home from work ravenous and knew exactly what I wanted to eat... Took advantage of cooking time to take photos in half-decent light... but totally forgot I'm supposed to buy a book for someone until too late this evening... Never mind I've got great photos for you, well there not blurry, that's something!
First, a few details of the November socks (Barcelona socks) by Mona Schmidt:
And the newly cast on sock: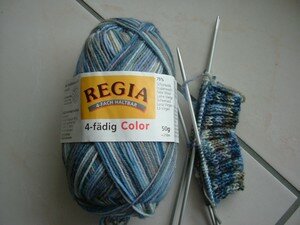 These are jaywalker socks, everyone on Ravelry and on blogs says such great things about this pattern that I have decided to use my freshly bought 3mm dpns to discover it.
These are a christmas knit, a gift, but I can't remember all of the skein allocation I did. I'm a list girl but apparently, this didn't get a list somehow.
So, it could be my grandma but I think they're too thin for her, she's a tights person whatever she's wearing so I think thick house socks would be best for her. It could also be for my Aunt but she's got long feet and this 1 skein will not be enough even for ankle socks.
The colour makes them girly so ... Ohoh, I think I cast on too fast and this may be a 2008 knit and not an xmas knit doh!
How did that happen ?!
Also, I received my order from Jon at Easyknits, they are every bit as lovely as the photos on his website. I think it's best (given my photographical skills) that I tell you which colourways I have sitting in my stash (very close to my sofa for quick peeks every so often):
- Swamp Thing
- Pebble Splash
- Ruby slipper
- Popsicle
- Liquorice
Some of these are ambitious xmas knits but I think some people are going to have to be patient and bear with my still quite slow and not so concentrated sock knitting skills.
Lots of wind and rain out, shame I've really got to go to work (new job comes with lots of things to learn and prove my worth to new boss)... I'd much prefer to stay in bed til 9, get up to make a milky coffee and go straight back to bed with it to read, and then get up later to knit a sock from start to finish only stopping for survival eating and sipping of tea/coffee/something hot... *keep dreaming honey, not happening anytime soon!*