I'm sorry for the long wait between posts... but you're about to understand how occupied I was.
In the correct order :
A nice photo (thank you morning sun) of the yarn I received from Jon at Easy Knits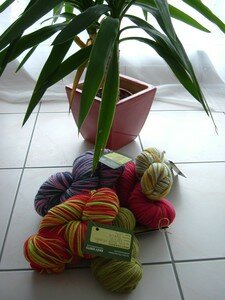 This is the best I could do for season spirit (don't put up a tree for just me).
Last Friday, I left directly from work to go to Aachen in Germany to celebrate a friend's birthday. It was a weekend thing and we were a group of 16! It was really nice to be with friends for a weekend, we all live in different parts of France and Germany and it's quite difficult for us all to be in the same place at the same time... so very refreshing! And here's a peek at the architecture (I'm a sucker for nice buildings)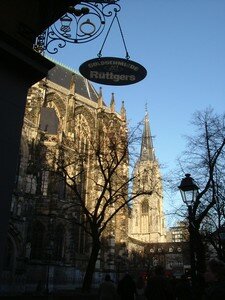 And of course in Aachen there is a factory outlet shop of Lindt, so here is my tourist photo attempt (I bought an advent calendar on the 8th December !!!)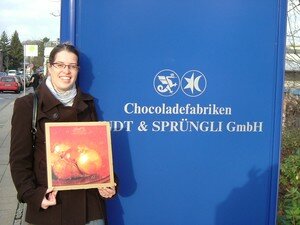 Got back on Sunday evening, not too late so I could pack my suitcase for going back to Slovakia. This time was special because on the last trip I met someone... so I packed my good clothes, skirts, new shoes, best perfume and the jaywalker sock I started just that week.
Trip out went fine, we met up and went for dinner which was in a medieval style restaurant, with great meat and veg and stylish earthenware cups and plates, sombre atmosphere. Very nice!
The work part was also ok and then I came back on Thursday. I may have already told you this: I have to take 2 planes to come and go from that place and I transit through Prague. On arrival at Paris I experienced something new, being the only one to not get the bags off the belt. With a sinking feeling in my stomach I went to the baggage desk and asked if the lady thought anymore was coming, she agreed it was the end of the lugguage from Prague so we opened a file to search for my stuff. Great!
I then went to the rental car desk (feeling light with just my handlugguage) and give the paper to the man, he finds me in the computer and then asks me how I'm paying! which is not normal because it's booked and payed for by my company, so we call the lady who gives him the numbers and then he tells me anyway I don't have a car for you this is strange. At this point I was getting just a tad peeved and told him that it wasn't an option because my bags had already disappeared and no way was I waiting to get back to my nest. He took pity and gave me a huge car !
The trip back home was ok and I finally got home, thinking on the way whether I should stop at a supermarket to buy some stuff (like the stuff that was in the suitcase) and figured I had spare toothbrush and toothpaste so the rest could wait.
I comfort knitted this: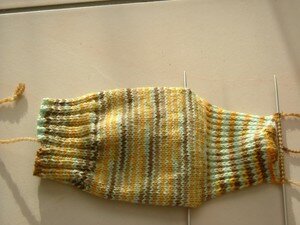 It's Jon's simple sock receipe he gave me with my Easy Knits yarn order. He's right, it does suit stripy yarn best, nice and simple to knit after a strange day.
Needles : 2,5mm
Next day, get to work and try to call about my bags, they give me a website and I have a look. Status bag 1:not found (that's my suitcase). Status bag 2: found, being delivered (that's the box of stupid work stuff).
So I start worrying because there's loads of flights from Prague to Paris every day and why would they be separated ??? And I also start realising that all my best stuff is in this suitcase (see above for partial list).
This morning, the box was delivered and then I looked on line and YEH the suitcase has been found and is "in delivery" status. I am so relieved I can start my weekend now!