This is mainly a knitting at home weekend with the sun shining into the lounge making it really nice & warm (peeked at 24,5°C with about 3°C outside).
I did however put a foot outside to go on a shopping spree at Phildar's clothes section (had 20% off whole shop thanks to my shop card) to buy appropriate clothes for the new job.
And of course, I went and had a quick look around the christmas market which is not easy to photograph and looks like this:
And I also noticed the centre of town church was nicely lit:
And some knitting took place since yesterday, the first sock of Pebble Splash is done (barring the kitchener stitching which I can't do right know because my darning needle is in my "misplaced" suitcase which should be delivered tomorrow) and I'm casting on the twin a few minutes after posting this.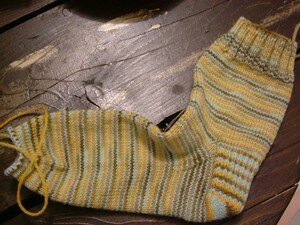 I'm very happy with this sock, maybe my best yet concerning texture and the quality of execution (0 ladders at the joining of the needles!). A new heel for me : K1, sl1.