The weekends' weather was glorious and exactly as I like it: Very sunny and cool, that's about 15°C at the moment.
Saturday was spent finishing a pair of socks which will leave for their new owner on Monday: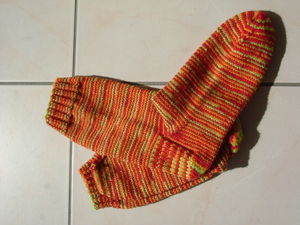 And, I had time and space to attack the gipsy sweater, started last september (says Ravelry, very good tool for keeping track of one's procrastination!!!)... I actually gave it a block: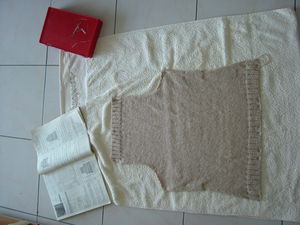 I was actually amazed at the result after blocking the knitted parts of the sweater. I started with a sleeve and started out as a beginner does, I suppose: trying to do it on the ironing board, admitting it's too small for the job, thinking about it, going for a towel in the cupboard and putting it on the floor (no idea why I didn't put it on the table...), getting the pins out and preparing the iron (filling it with water!!!).
So following the dimensions on the diagrams, I steamed the first sleeve and when it was dry, I unpinned it and it came off feeling lovely and smooth, it didn't roll onto itself and basically "behaved" !
I won't skimp on blocking again...
For the moment, I have 2 sewn up sleeves, the front has its' ribbing sewn on the bottom and the front is attached to the back. I still have to sew the sleeve ribbing on the armholes and sewing on the sleeves. It takes time the sewing thing!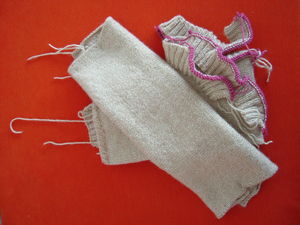 I also picked up a set of circular needles in 2,5mm diameter and I tried them out on the above orange socks and now I'm finishing my blue/pink socks with them. Apparently, the technique is called "Magic Loop". Yarnissima, who designs intricate sock patterns (one of which is the Firestarter, I started in Morocco) showed me how at Iknit day in London. I'm very priviledged, yay!!!
And on the experimental front, I tried out my spindle and made some horrible yarn !!!
The spindle and I had a couple of fights and some missunderstandings... but we have come to an understanding and will continue our relationship sometime soon.
That's my first very irregular single and it's very short !!! I'm still proud in a corny way!