I got home on Tuesday evening only to find a great surprise in my letter box.
I still haven't had time to sit down with a square of chocolate and a steaming cup of Russian Earl Grey tea, but this will be happening very soon !
This is the book I am so excited to have: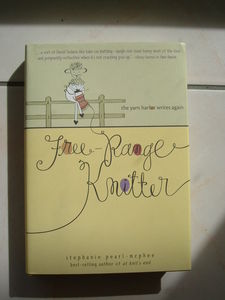 More about the content later but just by leafing through it, I think I'm going to love it!!!
And a little progress report on the Nutkin sock: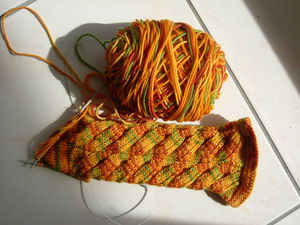 I've started the heel section but it's not going so great: I'm supposed to have 32 stitches and even though I haven't decreased any stitches, I now only have 30 ! So, I've posted the problem on Ravelry and am hoping for someone to help me out... This did get a bit more sewing done on the sweater so all's good.
I also got busy in the kitchen this morning. I got alot of fresh veg from a "pick your own" type place near here. I even pulled the leeks out of the ground!!! That takes a bit a perserverence... but I love leeks.
So instead of making veg mixes for freezing (freezer full), I thought I'd give soup a try:
Top left is thick carrot and leek in a beef bouillon, top right is a thinner version of the same. At the bottom is carrot and potato semi thick.
I made 2/3 of them thicker than I like so from a jam jar volume I get a full bowl when I heat it up with a bit of extra water this winter.
I think I enjoyed making the soup so much that I'll be doing some more... now I just need extra shelves or more imagination to put these elsewhere than on the fridge (which still has most of last years' rhubarb and apple purée on it!).
Umm, I still have loads of carrots left, so I'm thinking I need to go buy some serious meat and get cracking on more preserves for the winters' packed lunches.