This has been an intense week.
I was in training near Paris for 3 days : had to stay at a hotel with no internet connection (I think I'm addicted!), got to watch a movie in "VO" in the Champs Elysées, that means with no subtitles and the original voices, stumbled upon a Renault exposition and an aeronautical one too, went to have a look at the Renault showroom on the Champs Elysées, tasted real Haagen Daas ice cream from one of their own branches, went to Starbucks to buy an airtight coffee cup (present for boyfriend who is coffee crazy addicted to coffee). I'd been thinking about that for ages and finally got to go to a Starbucks. What else ?! Oh yeah, no-one caught the crisis that was brewing up at work for me while I was unavailable. It's pretty annoying when that happens because these same people, while you're sorting out the mess, ask for extra and unrelated stuff.... pfff nevermind it's under control for now !!!!!
Anyway, the knitting seems to get done faster when things are a little faster than usual at work.
Last Sunday I completed the sewing up of the gipsy sweater. I have no photos for the moment though because I really need to model it and boyfriend took off so I have no photographer. I'm going to try and get a decent photo this week (still got to figure out how...). For the record, I wore it to work on Thursday and I got ONE comment, yeah just one... from a guy whose wife knits and who appreciates that a sweater is not a small project. He said it looked great which was very satisfying after all that careful and tedious sewing.
So, trying to be optimistic and following the general feeling in the knitting world, I have decided that the lack of comments means it looks just as good as a store-bought sweater and that is a good thing! Yay for me!!!
I just finished the first Nutkin sock. This one went to Paris and got a good 6cm on it one evening. I finally figured out the heel... I still can't count to 32!!!! For this I have a photo: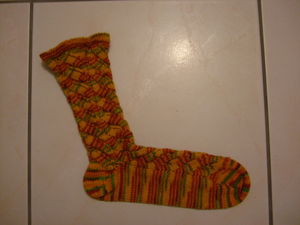 And since I have finished the sweater, I am allowed a straight needle project and I cast on at last (been waiting since July) for the Entrelac Scarf from Lavendersheep.
It started out like this, full of potentiel: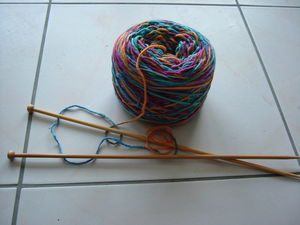 And as I write this, this is sitting next to me on my still amazing orange sofa: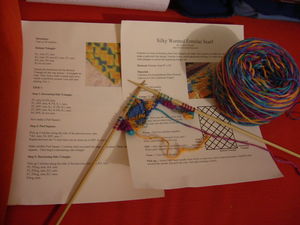 This is my first entrelac, I think I'm going to enjoy this ;-)
So, apart from the sock front, you'll be seeing lots of this scarf just getting longer and longer and longer... should I continue ?!
Stay posted for the innovative photo of the sweater.