OK folks, I'm back from the american continent... more about that later. I thought I'd start with a little résumé of what knitting got done in 2008, this is an easier subject to start the year with since I still haven't downloaded my photos from Mexico (partly scared they're all blurred and also I don't think I have enough space in the computer to accomodate them all which would mean cleaning it out... bah really not the moment!).
I had a loss of my knitting "mojo" at the beginning of the year which resulted in a load of started and hopeless socks due to stupid mistakes or startitis overtaking some of the promising ones.
The year started with Aude's socks. Her birthday is on the 8th of Jan so she got a late bday present!
Then I tried to participate in SKA knitalong with my first colourwork experimentation: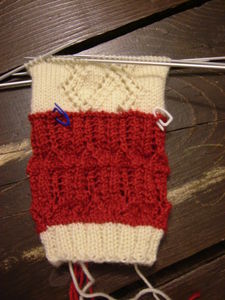 This first bit went fine, no real colourwork, but I got to the heel flap and I didn't leave enough stranding in the back and they are too tight... they need some frogging and redoing. It's been a year sigh!
I worked also on the orange cardigan which still isn't finished:
Then I had a big rest until May where I suddenly got a couple of socks that went ok. Maybe the week of hiking in Marseille and the trip to England triggered this. I remember buying a skein of sock yarn in my Mum's local yarn shop and starting on the train back to France:
Thank you!
May was a month with alot of train travelling: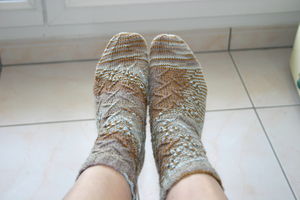 And then it was July and Astrid had a birthday too: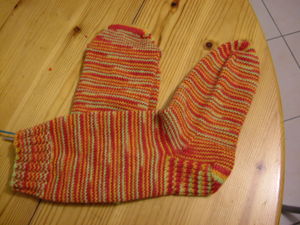 And then I planned my Morocco knitting:
The firestarter which I am stuck on, it is still in this state. Also, I went to the Iknit London Day in September and chose to take a simple sock instead of the one in trouble. And guess what ? Yarnissima in person who designed the firestarter was there and would have gladly helped me. I couldn't believe it... anyway, sock is sick and needs some serious attention. A 2008 left-over....
So the simple sock in question was a stash busting endeavour, I wanted to finish my BFL from Easyknits: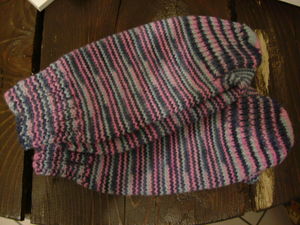 Very warm for the freezing temperatures we've got right now ;-)
Then I got stuck into the kit I'd ordered for an entrelac scarf. Much fun was had while figuring out this new to me method of knitting to make the fabric look like a woven one.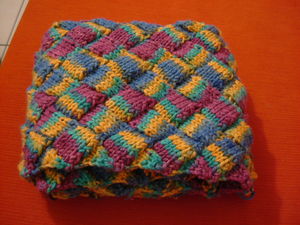 All the while, knitting these socks while travelling or being at boyfriend's house in the evening: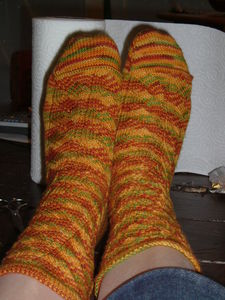 and finishing up the biggest FO of the year: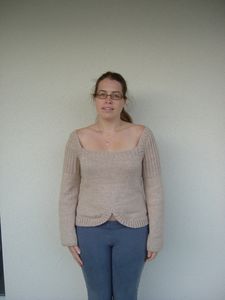 Never made a better picture of that... never mind!
I got started on the Lizzy socks: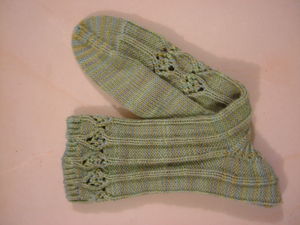 I've currently got one and a half of these done. The half was knit over the Altantic Ocean ;-)
Still plodding along on this one.
Because of minus temperatures and extreme dampness where I live, a hat trend started: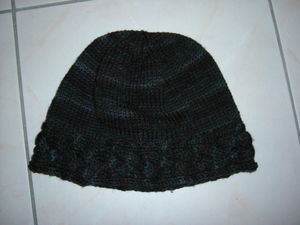 Nice and cosy, amazing how much warmer it is when you stop the heat leaving from your head!
This only used up half the skein of Dream in Colour Classy ... to be continued in 2009 ;-)
OK, so that's it for 2008, let me list them in a simple way:
Socks (a finished pair): 7 (I forgot Day of the Dead in the above listing, I don't have the socks at home!!)
Socks to be finished: 3
Pullover: 1
Pullover in progress: 1
Hat: 1
Scarf: 1 entrelac

I would say it was a productive year since I didn't knit for about 3 months...

So goals for 2009 ? I don't think so, the year is starting with a bout of startitis so we'll soon see what I get around to finishing!!!
Another post will show what's been done already, I actually have an FO.... next time!