We left for Mexico on the 19th December. We had a flight from CDG airport in Paris at 13:00.
However boyfriend was worried because we had no eticket. When we booked the flight at the beginning of August, we got an eticket, then the company we were flying with changed their flight times and so we got the notification but no eticket.
So once we had a coffee and got our boarding passes, he losened up !!!!
We also did a little last minute « crap I forgot to buy what my mother asked me to bring her » style shopping which we managed with success.
The flight was very interesting for me, my first long , long, long flight. I started the second lizzy sock and got all the way to the heel flap in between drinks, food, films, short naps…
We were transiting through Houston (the low point of the trip) and had to stay awake for the 3 hours and 3 security checks we spent there. By this time it was 1 in the morning for our bodies.
The flight to Mexico City was short and sweet. We circled the city twice so I got to see all the sights from above with plenty of boyfriendly explanations.
We stayed with boyfriend's sister and this was our room :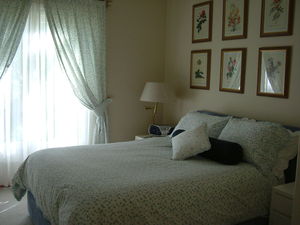 And the views from our window of the property :
We went on field trips immediately and saw Teotihuacan, an important Maya site :
And another day we went to Cacaxtla where we saw really well preserved paintings from mayan times. Did you know these guys had a 52 year calendar, at the end of the cycle they buried everything in earth/mud and built right on top of it. Crazy excavation work can be done in these places. View from afar, they put a roof over it to protect the paintings, and UNESCO took away their qualification because of it (seems silly to me):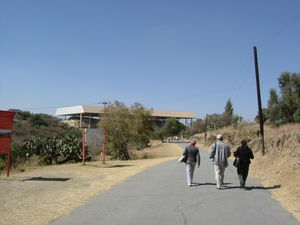 And views from inside :
And the pyramids around the roofed part :
We also spent some time in Mexico City, we went to the anthropology museum which tired boyfriend out! and I got to have a look at the turtles sunning themselves: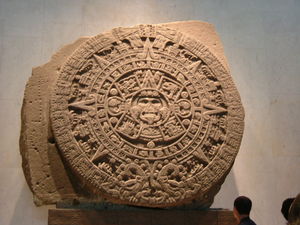 Then xmas day had passed and we flew away to the beach called Puerto Escondido, which looked like this from the breakfast table :
I have no caracteristic photo of us by the pool with pinas coladas in our hands and books on our stomachs, so moving on to the next beach we went to called Mazunte:
A little smaller but this is where they have the national turtle/tortoise research center which we planned to go to on the morning we were going back to Mexico City.
During breakfast, boyfriend was looking at the beach and all of a sudden he ran off. I supposed he wanted his camera... 20 minutes later: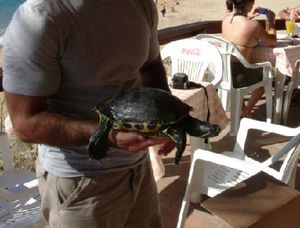 so we got our stuff together in a hurry, paid for breakfast and rushed over to the research centre where there was a huge line. We skipped that as Miss Turtle here wouldn't stay in her box ! We basically ran in, a guy told us to find "Marta" so we went back to the offices and gave her the animal. She said it was one from the centre that had escaped. So we got to leave our bags in her office and visit the place quickly. Some highlights:
After that things were pretty calm, we visited the historical city centre I don't have any great pictures though, boyfriend still has to share his with me (we have cable issues and also harddrive space is problematic).
We mostly spent our time visiting his friends, having breakfasts and sight seeing (I'm a slow sight see-er because I read EVERYTHING and I even ask questions and debate the cultural issues... not very efficient!).
A lovely birthday/christmas present! Thank you boyfriend.