So today I have an FO... a long time in the making but anyway...
Lizzy socks are a now a pair of finished socks. And I even got a sunny picture !!!: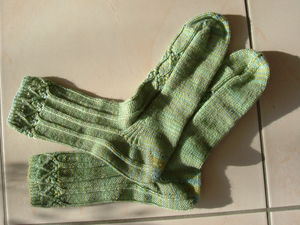 Details
Needles : Addi turbo 2,5mm circs
Yarn : Easyknits bamboo mix
Pattern : Lizzy socks (free Ravelry download)
Cast on : 6th Dec
Cast off : 26th Jan
No modifications, just made the leg a little longer than intended in the pattern.
The lacey scarf hasn't been touched since the last post. I have been trying to make the promised hat for boyfriend and have finally figured out the pattern which was a chart with no explanations of the key for the symboles. I finally remembered I am part of this great community which helps fellow Knitters: Ravelry, and that I should just do a search. Sure enough 3 seconds later I had my answer and could start the patterned part of the hat that comes after the ribbing.
No photos right now because that was last night and I didn't have my camera close enough that I would want to grab it and shoot the hat.
And I have received my first sock club installment. The package was beautiful. It contained (I'm telling now because everyone has got their package by now) soap, butter and a salt soak for feet. All hand-made products and a very nice smell to them. My feet are actually dry at the moment so I have to find 30 minutes to sit down without moving and treat them to that foot bath... ummm sounds dreamy!
The yarn is lovely, pink and soft. It's thicker than I usually have for socks but it knits up quickly and will be great for around the house socks. I have a tiled floor so foot heat is an issue.
I'm past the heel now and figuring out the transition of the pattern to the leg. The stitches shift around a bit so it's not straight forward but also not impossible!
I'm trying to concentrate on boyfriend's hat so I don't give it to him when it's Spring !!!