So finally there was a bit of sun and I took a photo of boyfriend's hat.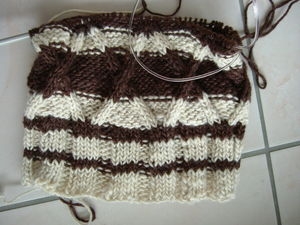 I'm having a tough time deciding when to change colours so it looks random but harmonious.

Needles: 5mm circular
Yarn: Noro Cash Iroha colours 108 and 1
Pattern: Ranger Hat by Anni Laine (free Ravelry download)
On Saturday evening I went to see an ice hockey match. I actually also went to one 2 Saturdays ago but forgot the camera.
My town's team lost by 4 points!!! but still I like the game and the others did play better.
Happy Sunday!