Hey again,
Here is my project in progress :
OK that's just a sleeve and only sleeve number one (don't you find it's a drag to knit the second sleeve ?!)
This is what it's supposed to look like finished :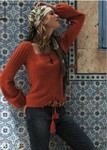 So the back and the front are done, sleeve number one should be finished by this evening and then it's all up to fate !